Renewable Energy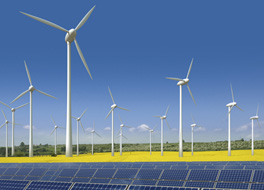 Climate change and energy resource depletion are some of the environmental challenges the world is currently facing . Amongst these environmental issues, energy is a top priority in developing countries. Due to the slow exhaustion of energy resources, diversification of energy is becoming a top priority in governmental agenda worldwide. Waste to energy and waste to resource will continue to shape the world's environmental order. As a matter of fact energy consumption is growing exponentially.
The compound annual growth in energy consumption being experienced in the world during the past 6 years sheds light on the necessary pursuit of renewable forms of energy and energy production. Forecasts show that the growth will continuously increase at a rate of 5-6% over the next 10 years. In this scenario, MIMC thrives in the renewable energy sector to provide clients with a more reliable source of energy and has located the best environmental technology focused on efficient utilization of limited natural resources and energy
Goals
Supply new hybrid solutions to reduce fuel consumption by 30%.
Implementation of more affordable solutions to replace expensive liquid fuels.
Supply of a comprehensive system that combines solar PV and diesel generation, these options are highly cost-effective and dependable and cater to a variety of environments.
Further expand the use of new energy sources such as solar, wind and biomass energy and engage in research and development to find manufacturing technology that will reduce costs and improve efficiency
Benefits
Reduction of Greenhouse gas emissions and global warming.
Mitigate national energy security issues stemming from the region's delicate energy supply and demand structure.
More efficient and reliable technologies for resource production
Reduced fuel consumption
Reduced reliance on limited energy sources through diversification
Conclusions
Challenging the status quo is more than just a statement at our company. We commit to finding better processes, solutions and available technologies. As the world demand for energy increases we provide the most reliable renewable and efficient source of energy for our clients' needs. Our out of the box thinking saves our clients money and finds alternative, better ways to use energy. Let us show you how by calling our office or emailing us today!